On Harlem as Cultural History
Josh in Harlem, New York City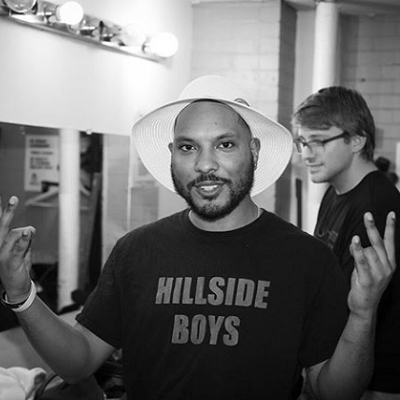 <em>Josh is a writer, performer, and educator. Co-showrunner of the therapy themed improv &amp; stand up live show 'Do You Wanna Talk About it?' as well as the co-host of the Black Irish Comedy Show, the first monthly comedy residency at Brooklyn Brewery, his <a href="https://grandmasophiascookies.com/author/jramos32/">writings</a> can also be found on the music and culture blog <a href="https://grandmasophiascookies.com/">Grandma Sophia's Cookies</a>. You can follow his strange lifestyle on <a href="https://twitter.com/joshstamos_">Twitter</a> and <a href="https://www.instagram.com/joshstamos_/?hl=en">Instagram</a>.</em>
✷
I live in the Dunbar apartments in like North Central Harlem. I used to live on 127th and Lenox, which was cool. It's very poppin' over there by 125th, a lot of cool restaurants, Corner Social, Sylvia's, Cantina. But now I live on 150th and it's more residential. There's no main train right there so it's more calm, which I really like - I didn't really like the hustle and bustle of 127th all that much. But I like 150th and Frederick Douglass. Dunbar is cool, it's a very old-school community. It's half gentrification and half older folks, which has been interesting now during COVID as mutual aid societies are going about that. It's my third year there and a lot of the new people don't really interact with the older folk, but now we are, which is nice and it's created a much nicer sense of community.
I love living around a bunch of Black and Hispanic people. I grew up in the Bronx in a very white neighborhood in Throggs Neck. Almost suburban, with no train lines around it. So it's nice to be around people that look like me. There's cool bodegas everywhere. My favorite bar in the city is in Harlem, At the Wallace, which is on 149th and Broadway - that place is super dope. There's a really good food spot called The Edge on 140th and Edgecombe which is Jamaican, English, New York - the menu is split up in three different ways. The Shrine on 134th and Adam Clayton Powell is this old-school Black venue where you can go and listen to dancehall Jamaican stuff until three in the morning. It's cool because there's not many venues outside of lower Manhattan or Brooklyn, so to see a dance venue in Harlem is pretty dope. Hops is a good bar that's right across the street from the Shrine.
I like how close I am to the Bronx still. I got the Bronx motto tattooed right here on my heart, and I still work in the Bronx, so it's very ideal. I can walk to work every day. I get to avoid taking the train. It's about a 25 minute walk to and fro every day and it's a pretty good workout, especially because I work in a school so I'm just walking up and down stairs and pretty much just standing all day long. But Harlem is changing. They're building some pretty expensive-looking apartments on the corner near the Dunbar, across the street, on the Adam Clayton Powell side.
I'd love to hear a little bit more about that transition moving from Throggs Neck to Harlem, especially because as you mentioned your area has a lot of gentrification. I'm gonna guess that of those people, you're one of the few that's from the City. Is that accurate, and if so, how does that feel? Does that give you a different perspective on things?
Definitely. A lot of the gentrification, most of the people are not from New York at all. It's Pennsylvania, Massachusetts, Montana, Florida - everywhere, basically. And to me, I work in the community. Even though I work in the Bronx now, it's basically a 25-minute walk. My kids live in Harlem, my kids live around me - literally in my building. One of my students lives on the fourth floor and I'm on the second floor. I live and work in the community. So I don't really see myself as a gentrifier, even though I have a higher salary than most people that live around me. The fact that the work is being done in the community, and I'm very active in certain things in the community, makes me feel like my presence has more of an impact, especially because I advocate. I'm a special education teacher, so I'm advocating for people that don't necessarily have the skills yet to advocate for themselves.
A lot of people left Harlem for COVID. Some of my friends had other places to be and it makes me wonder, what is a home to some people? I talked to my therapist about this: people, during times of crisis, want to go to the place they feel most comfortable. And it never even occurred to me to go back to Throggs Neck, even though I spent the first 22 years of my life there. I'm going to stay here. I'm not going to tell anyone that they don't belong somewhere, but I think that if you try to make a home, and if you try to set up shop somewhere, you should really be cognizant of the impact when there are just empty apartments in Harlem right now. There are people that can't afford to live here, or homeless people, or people that have been forced out. A lot of Black people have to end up moving to the Poconos, other places in Pennsylvania, or Virginia Beach because the rent there is $400 or $600 for a two bedroom, and here a two-bedroom is probably $2,000 now, sometimes more. I think we're at a point and time right now specifically where people are questioning their imprint on the world around them, versus a lot of times before people had blinders, and it was just data on a screen or on a piece of paper - they don't really see themselves as being included in it. But right now people can't really ignore that they are a part of the issue.
For sure. On that subject, another big theme of all this is how we show up for our communities, and you've already mentioned a whole bunch of things related to that. But especially in this time, knowing how important it is in this moment to show up particularly for Black and brown communities, what are some of the ways you see yourself fitting into that?
I'm doing a lot of internal things in my school right now, trying to consider what policy could be enacted in the Fall. I just got placed on a 9th grade leadership team as the special education representation. There have been other cool initiatives getting started to address systematic white supremacy in really all facets of society. Which is a great start, because I was just talking to my friend who lives in a small town outside Boston, and she was saying that a teacher got suspended for trying to talk about police brutality in school, which is absurd. These conversations should be happening one, in schools, and two, at the dining room table with your kids. Those are the first places they're going to learn.
Besides that, just protesting when I can and as safely as I can considering the pandemic. I'm very active on social media, just sharing resources. The other day, me and some Fordham people that I'm in a shit-posting political group with, we got some people to match funds and in one day raised almost $7,000 for the NAACP Legal Fund, so that was pretty cool. You know, just talking to people. I just made my Instagram not private. People are always asking, can I share this? Can I repost this? And I'm like, yeah let me just take this off private, and you can do whatever you want with the information. I'm very lucky and privileged that I had two parents who worked for the City and got a nice salary and were able to leave - my mom's from the projects of Bed-Stuy and my dad's from a farm in Puerto Rico. They left poverty and got civil jobs and I was able to go to private school. So my circle, for the most part until my adult work life, has been a lot of white people. Fordham's a white school, Regis High School is a white school, Pelham Bay is very diverse now but was not that diverse back then. Because of that, I speak directly to my followers a lot. Some of them are very receptive, some of them not so much. But now, more positive reception than not. They're really showing themselves and trying to step up and just be better people, which is dope. It's crazy because I know people that have definitely done problematic fucked up things that have changed their attitudes and have put up a lot of money lately. You see them using their platform for difference. It took a long time, but it's great that it's finally happening. I feel bad for older Black people, 60-plus who have been in the struggle for so long, and it seems like now everybody cares. But it's a better late than never kind of thing.
Yeah. Just from my own perspective and my network and the people that I'm following and interacting with, I feel like I haven't seen a conversation move so far in so short a time. It's really exciting. The last thing I'd love to ask about, related to that last question: I know you as a comedian, as a writer. Do you see all of that as related to community work in any way?
Yeah, I'm always talking to the kids about expressing themselves. I'm a special ed teacher so I've done English and history which requires more critical thinking of the world around you. Now I'm an Algebra teacher - in Algebra there's not much room for that, just teaching people logic and problem solving. I'm always telling my kids to read, watch film, play video games. You can learn so much from watching movies. Watch old Spike Lee movies, see what it was like in the '90's - not that long ago, right before you were born. All of my students are early 2000's babies.
Storytelling is important, especially for Black and brown people in America. We're not doing DNA tests to find out what was going on 200+ years ago because that's just a sad history. But knowing the people from not that long ago - James Baldwin was not that long ago. Knowing the artists from Harlem, Baldwin, Langston Hughes, there's so many. There's a jazz spot Bill's Place where you can go and pay $25 to see a two hour live jazz show. There's so much cultural history and art that you can find in Harlem if you are willing to just look for it. A lot of my friends still go to shows in Brooklyn, but there's so many dope things here. Listen to the sounds and the history and the art of people that look like you. Don't just go for the popular mainstream stuff. Even in rap music, a lot of the mainstream stuff right now is cool but at the same time it's not saying much about anything. It's not about struggle. It presents a certain lifestyle that's more about escapism. This moment right now - let's not escape this moment right now. Let's face the uncomfortable-ness of everything. My favorite artists have been the ones that keep it at the forefront of realness. People like Jay Electronica, Medhane, MIKE, Mavi, JWords, keiyaA, Show Me the Body, Roper Williams. Lot of DIY artists from the local tri-state grinding independently really speaking the language of the everyday person in a real way.
I encourage my kids to be real with themselves, express themselves, write, get a journal, and take time to document what's going on. One of my co-workers, she takes a self-portrait of herself every day during COVID. Pay special attention to this moment. Even if you're just a kid who posts on your Instagram once a day what you're feeling, that's a historical document, that's art. It doesn't have to be super serious. It doesn't have to hang in a museum.
✷
Want to keep up with Place/Love? Join the mailing list here to get a weekly update on new interviews, essays, and other content.